Brian Hume - Acoustic Guitar / Lead Vocals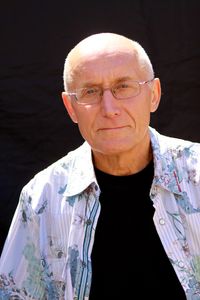 In The West Coast Band I play a Takamine acoustic guitar and handle most of the lead vocals.. The band was initially put together as an off-shoot from 'Prelude', the band I gained international success with alongside founder members Irene Hume (My wife) and Ian Vardy. With 'Prelude' we scored our first and biggest hit in 1973 with a cover of Neil Young's 'After The Goldrush ' which we did in a novel a-capella style. This resulted in a continuing life of making and performing music.

The first records I remember liking were Dean Martin's 'Memories', Frankie Laine's, 'Cool Water' and Guy Mitchell's,'Singing the Blues'. Remember, this was the early Fifties, and within a few short years - the Pelvis - came smashing into the world like the meteorite which destroyed the dinosaurs. I'll never forget hearing 'Heartbreak Hotel'. It was like an electric shock; dark, sexy and cool. 
The best place I discovered to hear the early rock and roll records was at the Newcastle Town Moor Fun fare, locally known as 'the Hoppings'. When you were being spun around on the Waltzer by cowboy-hatted Teddy Boys listening to 'Jailhouse Rock' pounding out of cheap speakers, it was close to heaven. 
Then came 'that sound'. I'm talking about the acoustic guitar intro to 'Bye Bye Love' by the Everly Brothers. It took me years to figure out how to play it. Yeah, the Everlys: not sexy or wild like Elvis but producing diamond sharp songs of yearning and teen love set to the pumping sound of their acoustic guitars. Then one night I was watching 'Juke Box Jury' on TV when they played 'The Sound of Silence' by Simon and Garfunkel. I thought the Everlys sounded sweet!, Yet boy, S&G were something different again! Not only did these guys sing like angels, but their words were anything but teen angst. They were politically liberal and they sang about civil rights and alienation.

It was around this time that Ian Vardy and I started to write songs. We took our demo to Lorna Music in Denmark St. London and we were subsequently signed to do a single. In the same Abbey Road studio the Beatles were using, we recorded two Paul Simon songs and two of ours. The single was 'The Big Bright Green Pleasure Machine', and we were know as 'The Carnival'. Reviewed in the New Musical Express as, 'Social comment at breakneck speed', it sold 104 copies! 
Seeing S&G live at the Albert Hall was incredible. One guitar and two voices filling the whole place with the most beautiful sound I'd ever heard. Irene, my partner, said, "Let's go and say hello to them". So we did. I shook hands with Paul Simon muttering some tripe when all I really wanted to say was 'I think you're amazing.' Ian ended up talking to Garfunkel for while. 
It wasn't long before Irene , Ian and I formed 'Prelude' and, as mentioned earlier, in 1973 we had a hit record with Neil Young's 'After the Goldrush'. I'll never forget Alan Hull, from 'Lindisfarne', coming back from America saying, 'You buggers are being played to death in the US. Get yourselves over there now!'. Did we go? No. We went instead to Amsterdam, where we were completely unknown. Go figure. Still, we did end up touring with one of the gentleman of the music scene, Ralph McTell - playing prestigious concert halls including the Albert Hall, the whole thing. Through the 70's and the 80's we also toured with Joan Armatradding and Don McLean having gained a good reputation as "Prelude" and becoming renowned for our vocal harmony blend.

Since those heady days I've continued to work with other line-ups, most notably with 'American Routes', which also included Irene, where we have maintained a steady flow of work on the UK country-rock circuit. In addition to that I often work as a solo artist. We reformed 'Prelude' about 5 years ago when we re-united with Ian. At the same time adding Paul Hooper on drums and Keith Tulip on bass, becoming a working five piece in order to promote a new CD. It was shortly after that that I came out with the idea of forming 'The West Coast Band'.
The idea behind the 'West Coast Band' is to play some of the music we really love. Music that had such an influence on us in our formative years as players in the game. Much of it emanating from the West Coast of America in a blossoming L.A. music scene....to be more precise...much of it from infamous Laurel Canyon. (We almost called the band The Laurel Canyon Band!)

The Eagles have been copied many times but when they first came to the world's attention they were fresh and were offering up something new when they blended a country flavour to rock, spiced up with four part melodic vocal harmonies. Not only did they sing and play beautifully but their songs were intriguing. They wrote about outlaws and cruising around a decadent and seductive California. 
Three part harmony isn't new, but when Crosby, Stills and Nash sang it felt like it had never been done before. Their debut LP remains iconic and still hits the spot today. 
What can one say about Neil Young? He's a free, wild spirit writing some of the most powerful and poignant songs ever written – songs about racism, injustice and love. 
Joni Mitchell is possibly the best female songwriter of all. Maybe the best of all – including men. Poetic, insightful, fiercely independent, a true original and hugely influential.

Jackson Browne in the same Singer/Songwriter League as Joni, writing well crafted songs about personal relationships whilst also collaborating with The Eagles and coming up with tunes like "Take It Easy". What's not to like!

The Byrds were America's answer to The Beatles and helped kick off The West Coast Sound with their distinctive jingle jangle guitars and harmonies, blending folk with rock and later, with Gram Parsons in their ranks, introduced true 'country' to the mix.
These are just some of the artists we pay homage to in our set. All the music we draw on comes from an era which will never be repeated, when ideas were changing and people were making music to say something important and new. Ideas about personal freedom and social politics never voiced before. Here's the thing –they really did help to change the world!
Back