Cliff Ehala – Lead Guitar & Vocals
Guitarist Songwriter from the North East of England.
My first experience with music was listening to my grandfather who was a church organist. My favourite piece he played was Trumpet Voluntary by Henry Purcell, an English composer (1659 – 1695).  This inspired me to take piano lessons from a wonderful lady, Mrs Gelson, in Bedlington. Not only did she teach piano, she was also a vocal coach and taught me all about pitch and harmonies. This set me in great stead for my future musical journeys. However, as much as I enjoyed the piano, I knew it wasn't really for me. One afternoon in 1971, I was sitting in a friends back kitchen and he had an LP on his record player, it was a compilation album with songs from the Move, Joe Cocker, Tucker Zimmerman and Procol Harem to name but a few. A song came on and I went "wow". It was Tyrannosaurus Rex playing By the Light of a Magical Moon. The use of the guitar and vocal melodies just blew me away and not long after I was in McKay's in Newcastle buying my first guitar. Other influences include: Paul Kossoff, Brian May, Joe Walsh, Don Felder, Dave Gilmour, Alex Lifeson, Brian Robertson, Scott Gorham, Mick Box, Laurie Wisefield and Chris Hayes.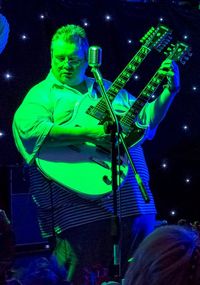 Equipment Live & Rehearsal 
Guitars-
Gibson Les Paul Custom. 
Gibson Custom Shop EDS1275. 
Fender Modern Player Telecaster Plus. 
Ibanez Roadstar RS440 II.
Fender 12 string acoustic CD-60 SCE Dreadnaught.
Fender 6 string acoustic
CD-140S.
Amplifiers-
Stoneham Custom 40 Combo, 
Blackstar HT Club 40 Combo, 
Blackstar HTV-112, 
Blackstar HT-5 Artisan Combo, Blackstar HT-5 Combo.
Effects-
Line 6 HX Fx
Mission Expression pedal
B9 Organ pedal
Line 6 G10S Wireless System
LD MEI 1000 in ear monitor system
Microphones-
Sennheiser E935 vocal microphone, 
Sennheiser E609 instrument microphone, 
Shure SM57 instrument microphone.
Current Band- West Coast Band
Raine / College Boys (circa 1978) Formed to initially play original music but morphed in to a covers band and we enjoyed minor success playing the North East club circuit.
ESP (circa 1985) again playing the North East club circuit, winning club band of the year in 1987. Which was also the year I married my beautiful wife Deborah.
Who Dares (circa 1989) was formed from the remnants of ESP when the drummer emigrated to Canada (nobody saw that coming!)
From 1991 to 2013 I was on an extended hiatus being a husband and father to my gorgeous wife and four fantastic children.
Room 602, Wishbone Ash Tribute band (2014)
Ashes to Ashes A tribute band playing Wishbone Ash covers
Scorched Earth Policy playing original compositions and distinctive rock covers.