Paul Hooper - Drums & Vocals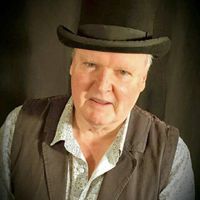 Started out playing drums whilst at boarding  school when it became evident that I had a ready made aptitude for it. Early influences were Brian Bennet with the Shadows, and a little later on inspired to play like Viv Prince from The Pretty Things. Lucky enough to land a recording contract  with my first real band 'Indian Summer" in late sixties and remained on a professional level ever since. Amongst many, probably choose the late Richie Hayward as the drummer I'd most like to emulate..his work with Little Feat is amazing and, when possible, I try to use his syncopated style in the way I play.

Amongst quite a few ...stand out moment - performing alongside George Harrison at the NEC circa 1990 with a host of famous rock stars...a very rare occasion when George performed after the break up of The Beatles.

Since early 90's I've been playing a DW custom kit and until recently i was  playing a Premier 'One Series' 5 piece custom kit with Craviotto maple snare and Istanbul cymbals. I alternated that with using a Pork Pie Kit that includes a 'Little Squealer ' Pork Pie Snare drum which has a nice mellow tone, and is becoming my favourite 'go to' snare drum..Although it's a toss up between that and my recently acquired custom Dunnett brass snare which is a beaut! I recently bought myself a Sakae Pac kit which is distinctive as it's a small downsized kit with a 16 inch kick drum, which allows me to function better in smaller venues. As of 2020 I'm now playing a DW collector's kit custom made to my own specs with Instanbul cymbals together with a custom 14inch `craviotto Maple and Mahogany snare

Professional for over 45 years ...in various bands ...most notably -
First pro band was "Indian Summer" ..Prog-rock genre,  released self titled LP in 1970, toured rock circuit in late 60's early 70s.
Mid 70s Joined 'The Dodgers' alongside Tommy Evans from 'Badfinger' ..did several tours supporting name acts, and released  a couple of LPs and various singles to considerable favourable critical acclaim....but no major chart success. 
Late 70s was headhunted to join Club Band Of The Year 'Smackee'  which resulted in extensive touring of UK and Europe . It was during one of our many trips up to the N.E. to work the clubs that I met my wife Barbara...and the reason I've lived in Newbiggin By The Sea for over 27 years!
Early 80s I joined the well established 60'/70s hit recording act 'The Fortunes' and toured regularly on the nostalgia circuit both in UK  and world wide which also included lots of TV and Radio appearances. Decided I'd had enough of that in 2011 when I retired to concentrate on videography.

2011-  Thought I'd put the drum sticks away when I met up with Ian Vardy, Brian and Irene Hume from 'Prelude' whilst making a promo video to co-incide with the relaunch of their band. One thing led to another and I found myself back on the drum stool as part of the band which then went into the recording studio to make a new cd of self written songs.. It was nice getting back doing something new and creative after all those years on the nostalgia circuit. Prelude are still recording and gigging mainly in NE...although we did make a notable 'Live" cd in Spain recently. During the same period I was asked to join a local Wishbone Ash tribute band 'Ashes To Ashes' that soon morphed into  'The Scorched Earth Band' which had a nice balanced repertoire of original songs and interesting covers..Amongst it's members was guitarist Cliff Ehala..So with Brian Hume from Prelude and Cliff we had the genesis of the current line-up of the WEST COAST BAND.

I still consider myself as semi-retired in comparison to all the years I was full-on with The Fortunes, however with the ever growing number of gigs coming in for The West Coast Band, together with Prelude commitments...well.....getting my kits out is getting to be a regular event.!
 
"I like playing in the West Coast Band as it allows for performing some of my best loved material from my favourite genre and decade in music."
 
Fav bands -The Byrds/ Little Feat/Steely Dan
Fav solo artists - Jackson Browne/Joni Mitchell ........and you don't get more 'West Coast' than that!

Back